Last time, we showed you how to make this neat candleholder for your home or as a gift with a personal touch.
‍
With the FormBox, it's simple to duplicate your 3D prints to make multiple objects and iterations. Our in-house makers used the FormBox to try our candleholder print in loads of different ways.
‍
What You'll Need
‍
3D printer
3D printing material (PLA, ABS, or anything you prefer)
Sandpaper
All-purpose primer
Mayku FormBox
Mayku Form Sheet
Casting material of your choice (we've shown plaster, concrete, cork, and Jesmonite as examples)
Standard long candle (around 25mm at base)
‍
‍
How to Make
‍
‍
‍‍‍1. Download the STL file for this project here. You can open and print this using your preferred software (see a great list here).
‍
‍
‍
‍‍‍2. The material is your choice - PLA, ABS, woodFill, or whatever you like to use. Whether the material is flammable no longer matters - you'll be forming a mold with the print and casting it in anything you like!
‍
‍
‍
‍3. After your print is finished, gently sand off any excess, supports, or sharp edges.
‍
‍
‍
4. You're ready to form! Place your 3D print onto the bed of the FormBox along with a Mayku Form Sheet. Refer back to your FormBox manual if you need a reminder on how to form successfully.
‍
‍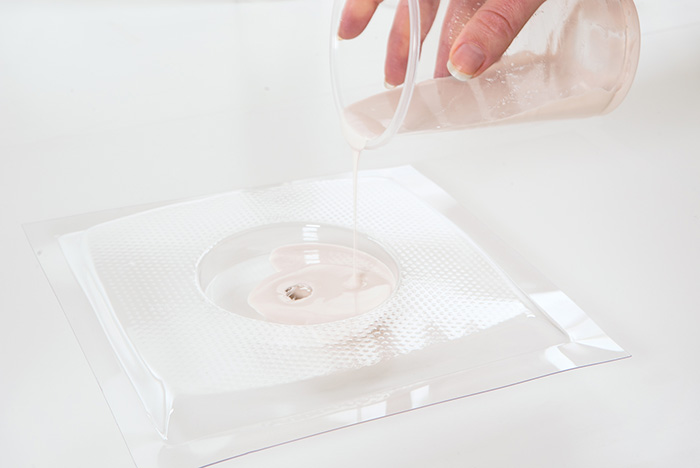 ‍
4. When your form is cooled, remove it from the bed of the FormBox and gently pop out the 3D print. You've made a mold  - and your 3D print is perfectly intact and ready to use again. 
‍
‍
‍
‍It's up to you what you fill your mold with - anything from chocolate to concrete! Our in-house makers have tried a few different materials to show you here. This candleholder was made with plaster. It's nice and light, and the finished form lends itself well to decoration in any shade or pattern.  
‍
‍
‍
‍‍Concrete is heavy and durable, so great for making ornaments or household objects. You can decorate it in lots of cool ways, too - it works well with metallic accents or monochrome color schemes.
‍
‍
‍
We created this terrazzo-style finish by mixing batches of black and white pigmented Jesmonite - a smart way to produce a luxury look on a budget. We've found Jesmonite to be a super-versatile material, with an end product that's tough, waterproof and easy to clean.
‍
‍
‍
‍You can mold with cork by mixing the granulated variety with resin or soluble glue. Cork is impermeable and low density, giving it lots of useful properties like floatation and rot-resistance.
‍
‍
Plaster, concrete, cork, and Jesmonite are just a few materials you could use alongside the Mayku FormBox. We've also tried projects with food, like jello or chocolate, and lots of different ways of using plastic to make objects as well as molds.
‍
If you've got a material in mind or have any questions about the FormBox, get in touch! And we'd love to see your versions of the candlestick holder - shoot us a snap or tag us on Instagram.